Content marketing is arguably the hottest topic in today's landscape. And the opportunities are plentiful, from blogs to ebooks, podcasts to videos, and everything in between.
With so many options, deciding which kind of content to create can be a tough choice. But this is significantly easier when you have a solid content strategy that is aligned to your organizational goals and, of course, your budget.
So how do you make that choice, where do you begin and how do you ensure your content is effective? In this article, we'll discuss not only the necessity of investing in good content but show you, what content to focus on to achieve your business goals.
The answer is simple – because creating great content is the best way to reach your target consumer. In a world of ad blockers and crowded competition landscapes, this is not an easy task, but great content can help you cut through the noise.
Relevant content allows you to engage your target audience on a meaningful level, helping to enrich your brand. Today, people want information they can trust, relate to, and connect with. And there is no better way to reach them than with attractive, compelling, informative content.
When planning your content strategy, be sure to allocate sufficient resources to ensure you're producing this kind of high-quality and purpose-led material. Keep in mind, that one single piece of great content can drastically enhance your brand visibility and earn you inbound traffic. There's no need to create 100 different items to make an impact.
Investing in good online content pays off, as it can effectively support all of your other marketing efforts, such as SEO, Social Media, and Email Marketing. Good content helps to diversify your online presence, allowing you to stay competitive in a busy marketplace. It amplifies awareness and reinforces the credibility of your brand, contributing to your organization's overall success, as data from the Content Marketing Institute reveals.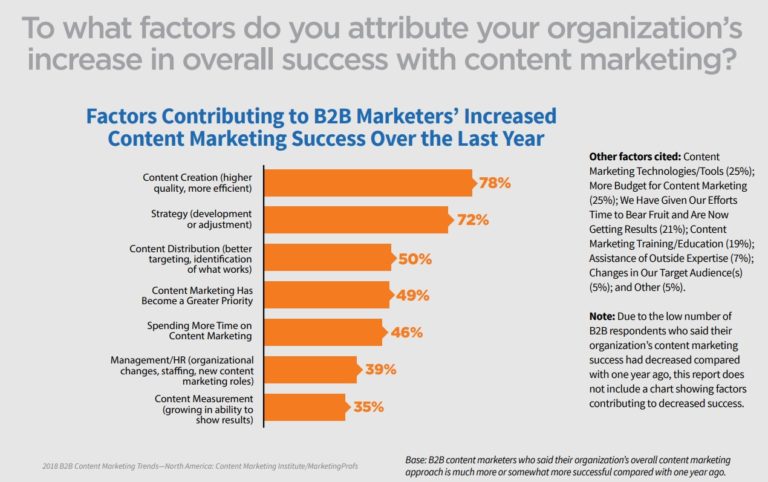 Source: 2018 B2B Content Marketing Trends—North America: Content Marketing Institute/MarketingProfs,  Content Marketing Institute (CMI)
It may come as a surprise to you, then, that even high-quality content can be relatively inexpensive compared to other common marketing mediums. Most content can also be repurposed across multiple channels, further maximising your initial investment. For example, key findings of a blog post could become a series of tweets, or an ebook could be divided into a series of shorter blog posts.
The key rule to remember is that the more time, resources and effort you put into making your online content compelling, the bigger your return will be.
Which Types of Content are most effective?
Now that we understand the importance of investing in great content, let's look at which content types are the most effective.
'Effective' in the field of content marketing means content that achieves your specific business goals. That could mean engaging your audience, cultivating long-term relationships, or building authority. Effective content speaks to these longer-term goals, aiming to build a community rather than going after immediate, one-off purchases.
Let's explore some of the content options that are worth the time, effort and investment you put into them.
1. Authoritative Blog Posts
Blog posts are such a versatile medium, allowing you to answer consumer questions and provide additional insight into complex topics for your industry. And not only that; by hosting content within your own channels, you can craft and adopt your own unique brand voice that consumers will grow to recognize and associate with your brand values.
Blog posts on external sites can help you to position yourself within the industry. For example, being featured in a scientific publication can demonstrate credibility, being featured in a technology blog highlights a commitment to innovation. Choose your desired publication to align with your current goals.
To get started with a blog post, aim to answer the recurring questions being asked by your audience. Take a stance on commonly debated topics, or provide background into your area of expertise. As your audience comes to respect your content, they will associate this level of respect with your brand and your product.
Do some research to highlight any questions that are not being effectively answered. Having a unique perspective or providing information that readers cannot find elsewhere gives you a great edge and is extremely compelling to your target audience.
Finally, one of the biggest benefits of blog posts is their SEO value. The better you are able to identify and answer common search terms for your audience, the better your ranking within Google, and the easier it will be to attract new readers.
Posts that perform well on your website and are frequently read can become evergreen or 'cornerstone content'. These assets have proven their usefulness and relevance to readers, and can then form the basis for further digital marketing and lead generation programs.
2. Infographics
Did you know that infographics are liked and shared on social media three times as often as any other form of content? Consumers love these visual snippets of information, thanks to their compelling design and easy-to-digest facts. Marketers love them because they are link magnets, that efficiently create high engagement and brand awareness.
By nature, infographics are extremely shareable content. Brands can post one image that describes the outcome of a research study, findings from a clinical trial or patient survey results, capturing a succinct overview of their message without having to write and edit an entire essay.
Infographics can be a great way to explain a complex topic to patients, as information is processed and stored more effectively, due to an infographic's visual nature. And because of their fact-based nature, infographic content also has a long lifespan, often continuing to perform for months or even years after their initial publishing date.
A good example of an infographic with a long lifespan is depicted below.


Source: Screenshot TÜV, SÜD – Resource Centre
3. Original Research Pieces
If it's within your budget, original research is an amazing way to stand out, and provide real value to your readers. Research positions your brand as a unique source of information, tapping into industry trends and informing your audience in a much more robust way than your competitors.
Research can include quantitative studies (such as data analysis of owned, public or third party data), qualitative information (such as one-on-one interviews or social listening), or a hybrid of the two (such as surveys or questionnaires).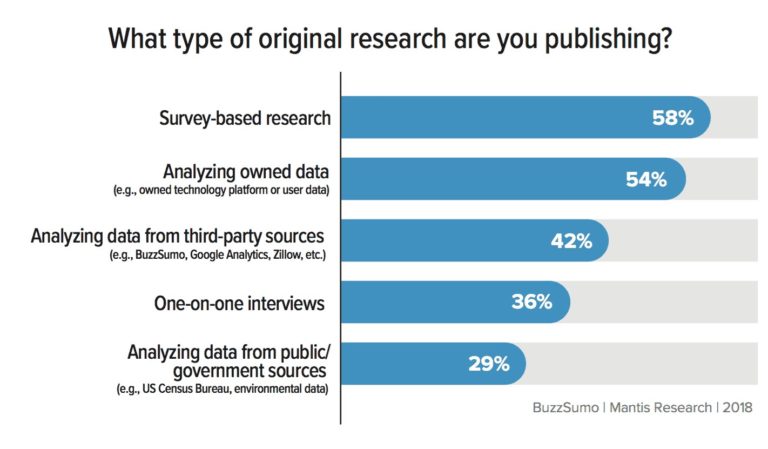 Source: Screenshot of Mantis Research report
The benefits of research can be two-fold. Not only does research show your own insight and expertise on a topic, original research provides a data-driven foundation for other people to develop their own content and then link back to yours. In SEO terms, external links to your content are the digital marketing equivalent of hitting the casino jackpot!
Despite these benefits, it must be noted that creating credible research is not the easiest content option. The creation of original research is vastly more time-intensive than writing a blog post, for example, and usually involves a higher cost. But your efforts will undoubtedly make more of an impact with your audience and provide much greater benefits for your brand.
Research can help to build authority in the industry and allow you to position yourself as a thought leader. In fact, BuzzSumo reports that original research and reports actually gain links and shares much more rapidly than lists or viral content.
4. Video
As you are no doubt aware, video content is absolutely booming right now. And thanks to smartphones, advancing technologies and easy to use editing software, creating high-quality videos is becoming easier than ever before.
According to a recent study by Cisco, online Video will account for 82% of all consumer Internet traffic by 2022 – 15x higher than it was in 2017. Shifts within Internet video traffic itself are already visible. Live Internet video will replace traditional broadcast viewing Hours. It will grow 15-fold to reach 17% by 2022.

Screenshot: Global Internet video by subsegment (Cisco), an exabyte is 1 billion gigabytes
HubSpot also found that 72% of customers would rather learn about a product or service by way of video, and Wordstream uncovered that 59% of executives say they would rather watch a video than reading text.
Humans are inherently a visual species and understandably find videos more engaging, more memorable, and more popular than any other format. With a medium that is so popular among consumers, it's obvious why video should be among your top choices when it comes to content. More video marketing stats are to be found here.
When it comes to creating video, the possibilities are endless. Long-form videos can include in-depth insights, such as tutorials or explainers, product or event recaps, client testimonials, webinars or video blogs (vlogs), to name just a few. Shorter-form concepts include promotional teasers, graphic animations, one-line interviews or sneak peeks for use on social media. This type of content is lighter in nature, so think about using these examples for content that sparks interest and is easily shareable.
A key topic focus to mention within the realm of video is 'How-To' content. This is content that goes into specific detail and explains a complex topic to an audience wishing to learn more. It's particularly useful in a healthcare setting, whether you are speaking to a patient audience (for example, learning more about a new therapy or managing a disease), or a B2B audience (for example, learning more about using a piece of equipment or when to prescribe a certain medication).
There are some great examples of 'How-To' video content in the healthcare market today. For example, physical therapists like Kelly Starrett (MobilityWOD) or businesses like ehowhealth use video content to demonstrate specific exercises (see screenshots below).
Don't you agree, that it is much easier for consumers to watch an explanatory video than try to interpret a movement from a written guide?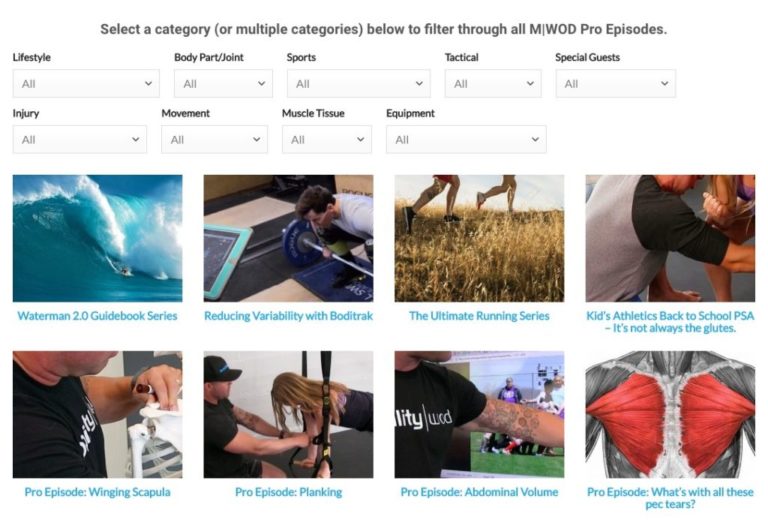 Source: Screenshot Youtube Channel – ehowhealth
Sharp Healthcare is another great example to name when it comes to explaining health-related topics in how-to videos to their audience.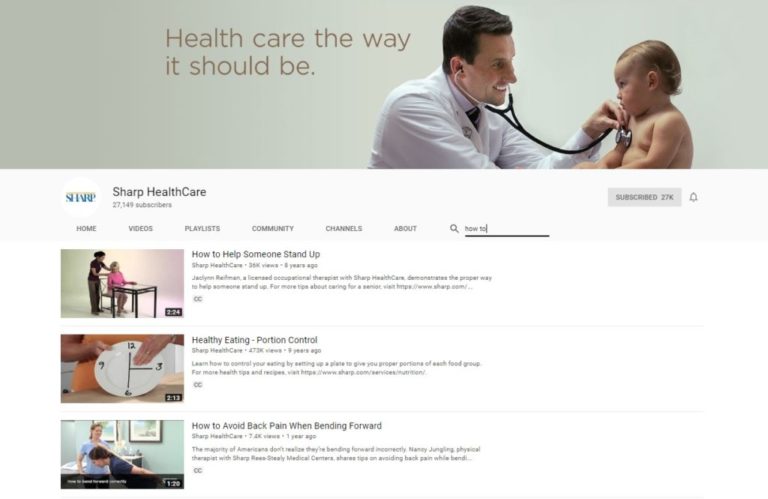 Source: Screenshot Youtube Channel – Sharp Healthcare
'How To' video content is a great way to build you audience, as you are providing real value for a viewer, without asking for anything in return. Although it works extremely well in video form (where you can show and tell rather than just telling), it can also take other forms, such as podcasts, lists, blog posts and even infographics. Feel free to adapt your 'How-To' content to the form that resonates best with your consumers.
Video can be an extremely helpful tool for achieving many different objectives, including emotional storytelling, promoting your organization, describing your products and services; the list goes on and on. In many ways, video content is no longer simply just an option. It's a necessity that needs to be part of your content marketing strategy.
Of course, there are a plethora of other content options, like webinars, case studies, checklists, podcasts, whitepapers and opinion pieces that are powerful when used for the right audience.
But no matter your choice of content type, the most important factor in your success is your strategy. Take the time to get input from other business departments and draw up a solid content strategy that helps you achieve your overarching business goals. Base your strategy on market and audience research, not just whatever social media platform is trending that week, and monitor your efforts regularly to be able to adapt and optimize as you go.
Do's for engaging Content
Do

choose topics and formats that are relevant to your brand and your readers.

Do

allocate enough resources. Content marketing is a specialized industry. Investing in professional content is often the difference between success and failure.

Do

be patient. Content marketing isn't an overnight game. Give your campaign the time it needs to produce results. Anything you publish in a hurry will most likely fail.

Do

select a variety of content types. You don't need to go wild, but with so many options available, it's a lazy strategy to stick with just one format.
Do have a solid, documented content strategy and adapt regularly depending on results.
Content Marketing: A Smart Choice
There's no question: Content marketing works, and that's not changing any time soon.
Not only is this a great way to build brand awareness, but content can help to forge genuine connections and trust with your audience. Both of these in turn lead to higher demand for your products and services.
It's safe to assume that your competitors are investing in content marketing too. In a recent industry report (2018) from the Content Marketing Institute, 37% of organizations stated that they expect to increase their content marketing budget steadily. Another study focusing specifically on B2B trends found that in 2018, spending on content creation increased by 56% and spending on content marketing staff by 37%.
Great content has relevance and meaning. It's got heart and serves a purpose for your audience. It can educate, inspire and connects emotionally. Most importantly, it has the power to deliver tangible business results and clear ROI.
While content is always a great investment, it's still important to work with professionals, who can make the most of your budget and provide crucial expertise for different content types.
Having a skilled team like medtextpert on your side allows you to rest easy knowing your content will be of the highest standard, relevant to your audience and aligned with your business goals.