The healthcare industry as a whole is progressing rapidly, with new research and technological advances making headlines every day. However marketing trends lag behind other consumer-centric industries. Why? Perhaps because marketing strategies are treated as secondary concerns in a setting where patient care and outcomes enjoy absolute priority – and rightly so. In addition, healthcare marketing is heavily regulated, with governing bodies and regulatory agencies constraining marketing efforts, and HIPAA and GDPR compliance regulations to be observed.
However, changing consumer behaviours and expectations are demonstrating the need to shift the industry towards digital marketing. Healthcare consumers are constantly researching online, with a recent Deloitte study finding that 52 percent of consumers search online for treatment options, investigate health concerns or want to find out more about care providers.
According to results from the 3rd edition of the Rock Health Consumer Survey  on Digital Health Adoption and Sentiments, the number of internet-connected adults using at least one digital health solution has gone up from 80% in 2015 to 87% in 2017. Six different digital health behaviours were identified in the survey: searching for online health information, comparing health services online, using mobile apps or wearables to track health, using telemedicine and consumer-facing genetic services. Although consumer activity differed considerably across the survey subgroups and categories, searching for online health information (79%) and online provider reviews (58%) were very common behaviours.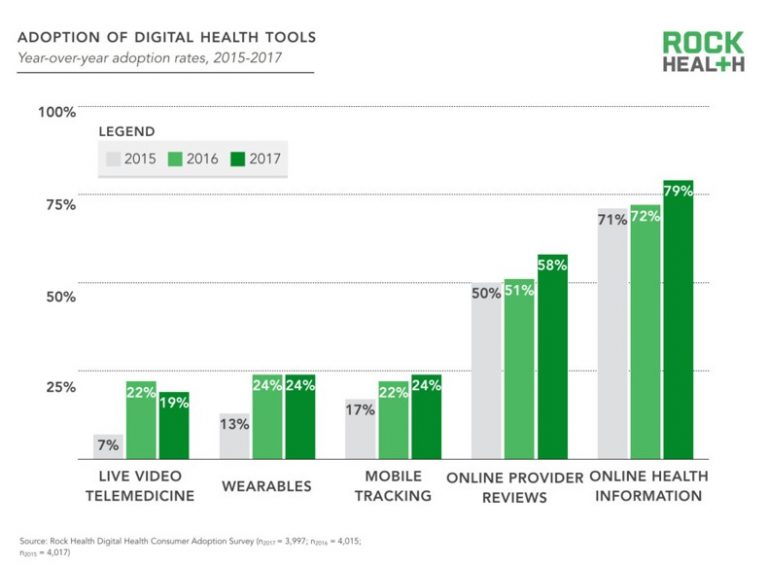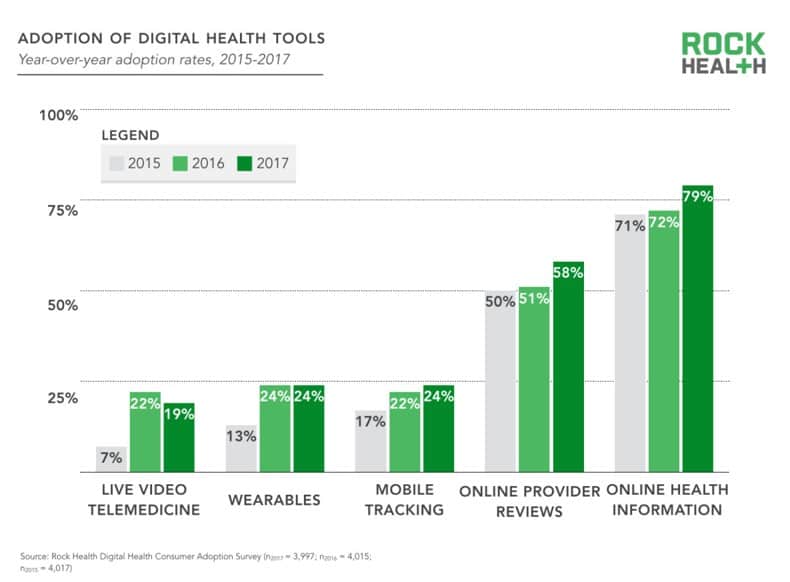 All of this data shows that healthcare consumers and patients are consulting online resources to educate themselves, become proactive and engage in their own health management. Therefore, it is increasingly important that healthcare service providers embrace digital marketing to meet consumers expectations and to ensure continued organisational success.
Driving Success with Digital Marketing
Let's look at some strategies to reach and engage with healthcare consumers:
Healthcare consumers are using search engines to find relevant information or services. A Think with Google study  found that search engines drive 3 times as many visitors to hospital websites than other sources. Therefore, optimising your digital presence should start with optimising for search, allowing search engines to recognize and rank your valuable content. This is easily done by tagging a page with relevant keywords, writing informative page descriptions, and creating strategic HTML titles. Doing so helps search engines to place your pages front and center when a relevant consumer searches for a health topic.
2. Create effective and personalised content
Earning a prospect's attention by providing the right content at the right time is the ultimate goal of inbound marketing. Getting a consumer interested and engaged with the information provided depends on its relevance to him or her. Creating relevance often occurs through personalisation, which is becoming more and more important due to the 'information overload' of today's world.
A prerequisite for successful personalised content is the definition of a target audience, along with several personas to serve that audience. Resources such as healthcare CRMs allow organisations to aggregate patient data from a variety of sources and produce insights that can inform personalised content strategies. When used in conjunction with marketing automation, a CRM can help build and deploy multi-channel campaigns including email, direct mail, social and SMS. Ideally, all campaigns are tracked in a single dashboard, which increases marketing efficiency and allows for real-time optimisation of campaigns.
Websites can also be personalized to create different browsing experiences for different users. Visitors can select whether they are a patient, provider, donor etc., and are then served content that is tailored to their needs.
Effective healthcare content is relevant to a patient's life, creates a positive connection with the consumer and ultimately shapes their behavior.
3. Engage via Social Media
Social media can be used to engage with patients, healthcare providers and support physicians, helping to improve health outcomes. Healthcare social media marketing strategies may include participating in community discussions, networking with other healthcare providers, and promoting information about health outcomes.
Patients trust healthcare organisations that engage online. A recent study found that 57 percent of consumers' decisions to receive treatment at a healthcare facility is strongly influenced by that facility's social media presence. Social media also allows physicians to share knowledge, communicate with their patients and collaborate with colleagues, all of which can potentially improve care outcomes.
Social media connects you with your audience and helps to build awareness of your organisation and its offerings. Additionally, it helps to increase the likelihood that your audience would click on your content in Google's search results, just because they know you from social media.
4. Track your marketing efforts
A huge benefit of digital marketing is the ability to monitor performance and attribute results to specific campaigns and outreach efforts.
Reporting allows you to understand what is working and, more importantly, what is not working, highlighting where marketing budgets can achieve more efficient results.
Gone are the days when healthcare marketers would create a strategy and simply hope for positive results. Now they can build data-driven campaigns and adapt them in real-time if they are underperforming.
And why wouldn't you want to profit from those benefits and insights and keep guessing?
It is essential that the healthcare sector as a whole caters for and appeals to today's changing consumer – a consumer that is well informed, a consumer that demands transparency and two-way communication, and a consumer that, more than ever before, makes informed decisions based on his or her online experience.
Not sure if your organisation is on track with implementing effective digital strategies? Need insight if your audience can make informed decisions based on the online information you are providing? If your consumer expectations are met?
Leave the worrying to us and start talking to us today, we are specialised in digital marketing in the healthcare industry.