Healthcare is an inherently technological industry. Organizations that cannot keep pace and are unable to implement modern medical diagnostic and treatment equipment & devices, online booking and CRM systems or secure data handling – all in a timely manner – leave themselves at risk of getting left behind. And the same is true for healthcare marketing not keeping up with the adjustments that digital transformation demands.
A strong digital healthcare marketing strategy can demonstrate an organization's level of competence when it comes to technology. If your website isn't responsive on mobile or isn't able to schedule appointments, you are projecting an image of facility that is 'out-of-date', 'not trust-worthy' and you are potentially even discouraging your audience including patients from getting in touch with you.
But where to start using the bits and pieces which are already there? Creating a sound digital healthcare marketing strategy is no easy feat, it can be difficult to know where to begin. Clarification is on the way with our practical considerations and tips, focused on healthcare providers, intended to helping you to optimize some of your digital marketing channels.hea
For many patients, your website is their first interaction with your organization. Ensure that your landing pages are clearly formatted and provide an overview of the necessary information without being overwhelming. Take advantage of menus and buttons to link to more detail or other areas of the site.
Make it patient-centric and not a display of your achievements. Avoid using lots of jargon, and look at the page from the point of view of the patient. They may have worries or concerns about a current medical issue or an upcoming procedure. Make sure your website is welcoming, professional and informative to put them at ease. In this way you can demonstrate your bedside manner before meeting a single patient.
Include easy to use navigation so patients can quickly find the information they are looking for. This can include top menus, sidebars and breadcrumbs. Key areas of the website should have the most visibility, for example your 'About Us' and 'Contact' section.
The CHUV Website is a great example of this, modern and very well structured, utilizing lots of whitespace, welcoming visitors and highlighting the most important – the emergency contact details.
Their menu has great visibility along the top banner, starting with information for patients and their families.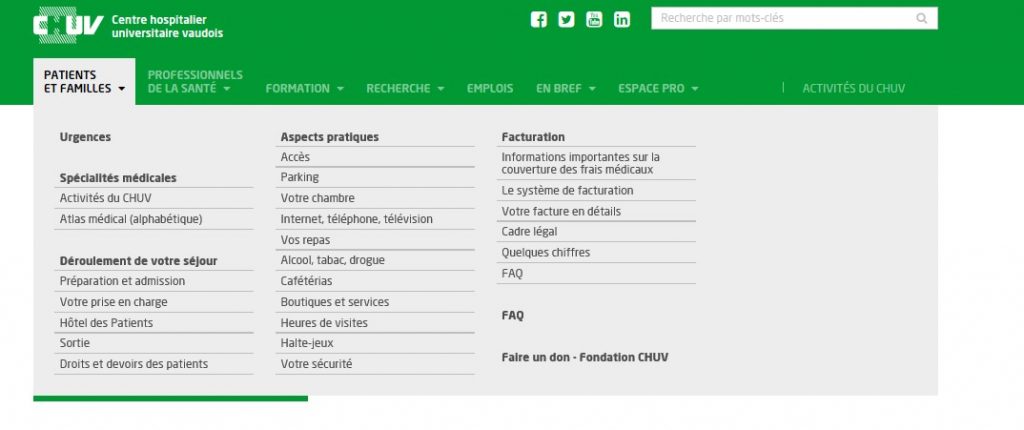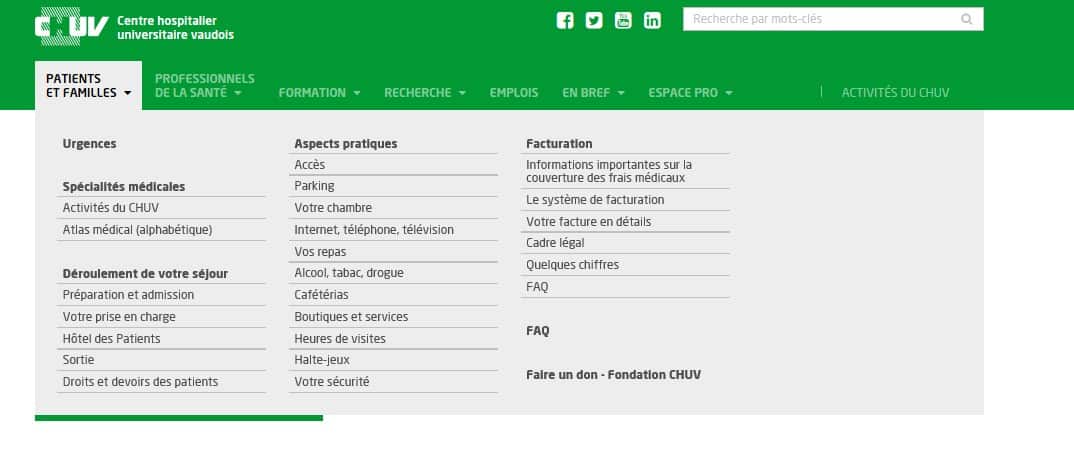 Another good example is the NHS Website. Besides a re-assuring pop-up welcome messages, clear call-to-action buttons further down the path guide visitors through their journey. Examples include 'Find a pharmacy', 'Go to', 'Book', 'Order' or could be 'Speak to a medical professional', 'Book an appointment' or 'Call now'.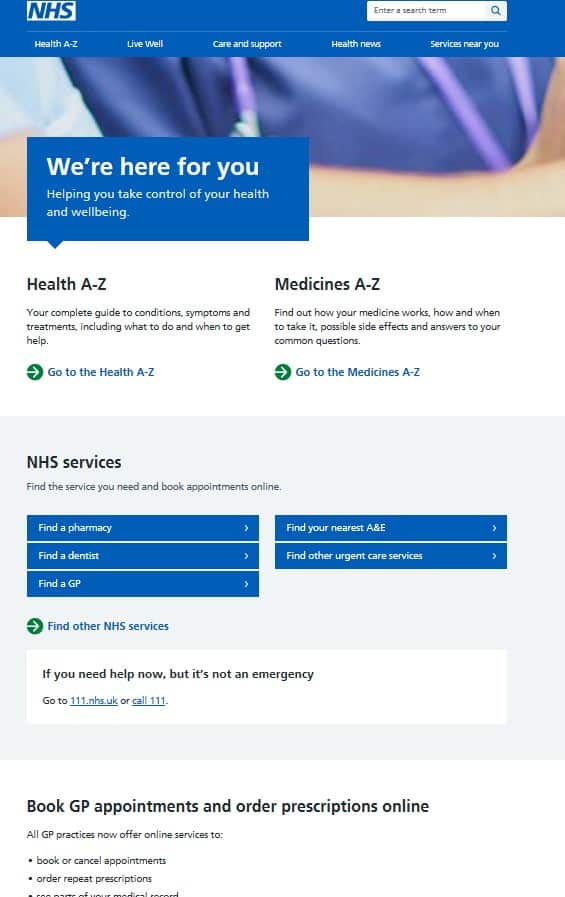 A recent study by Deloitte found that 52 percent of consumers search online for information about treatment options and to learn about health concerns or care providers. This means that the next step after creating your easy-to-navigate website is to fill it with content. A blog is a great way to do this.
Searching for health related information is the third most popular online activity according to a report by Pew, so use this to your advantage by providing up-to-date and well-written information about relevant topics within your area of expertise.
Include topical issues, such as advice for flu season, or join the conversation around annual events such as Heart Disease Month. By providing this information, you are cementing yourself as a trusted authority in your field, helping to keep your business front of mind the next time a patient has health concerns.
Allow patients to comment on blog posts so they can provide feedback or ask questions. This allows you to demonstrate your expertise and foster meaningful connections with your audience.
Danish pharmaceutical firm Lundbeck do a fantastic job here, even producing an entire magazine from their content. The magazine provides regular updates on the diseases they provide treatments for, as well as updates in current research and patient success stories.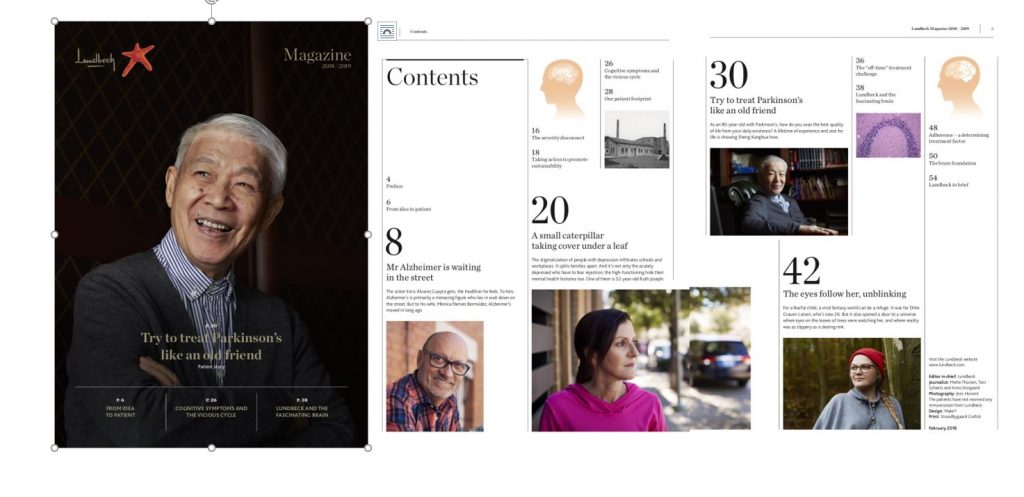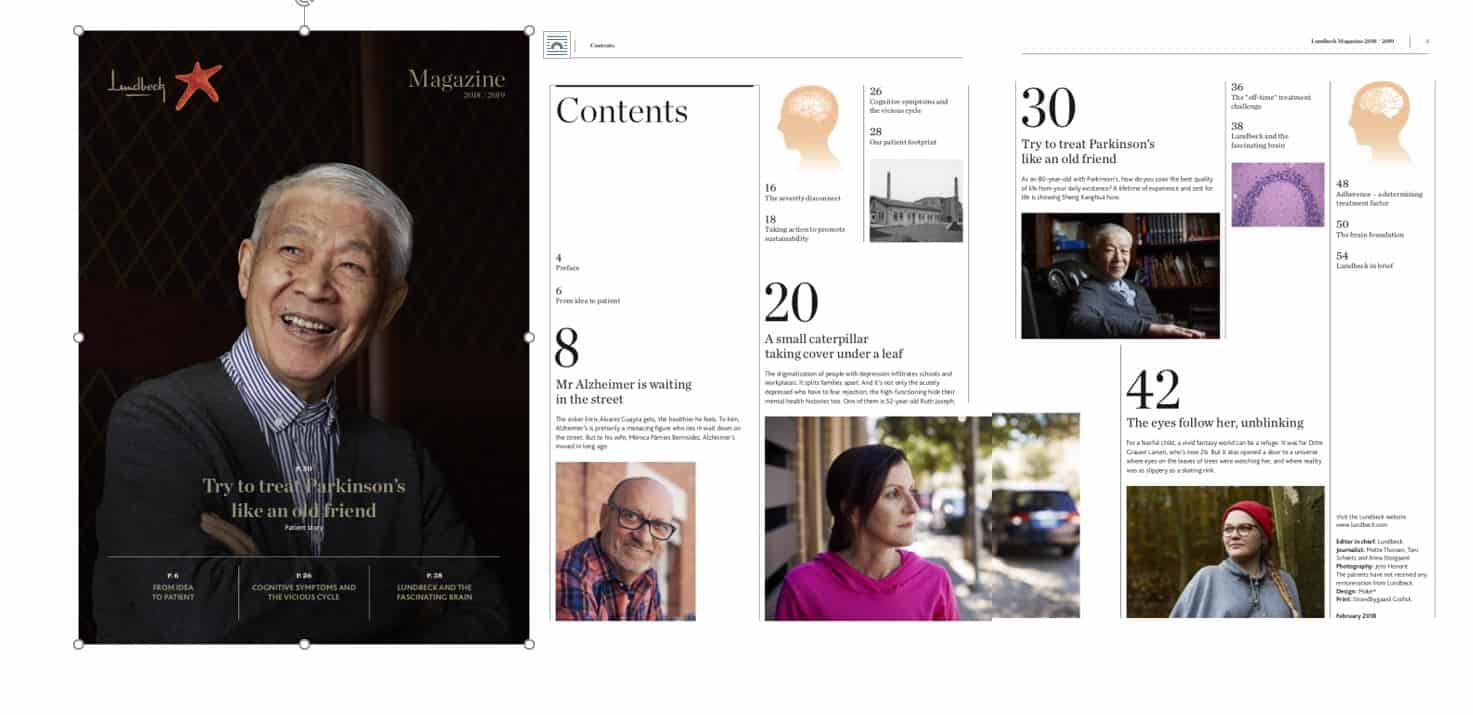 Video is an excellent medium for lifting your content off of the page in a more engaging format. And video content resonates extremely well with consumers; a recent study by Cisco estimates that by 2019, videos will account for 85% of internet traffic.
In a personal industry such as healthcare, videos can be a powerful tool for evoking an emotional response, allowing for a deeper connection with a viewer than a written blog post. Ideas for emotional video content include patient journeys, documenting the process from diagnosis to recovery, success stories or positive testimonials
Videos are also a great idea for more informative and descriptive content, as viewers can find it easier to understand an idea when they can see it for themselves. Ideas for an informative video series include graphics demonstrating what happens during certain procedures, or physiotherapy exercises for patients to help with a smooth recovery after surgery.
A final use for video is to increase the visibility of your staff and facility. In this way you can start to build an idea in a patient's mind of what will happen should they chose to visit your location, and who they will meet. Patients will feel more comfortable having put a face to a name, hearing a doctor's voice and gaining a greater understanding of what to expect when they arrive. Ideas for visibility videos include physician profiles, facility tours and welcome guides.
Novartis have a great presence on YouTube with their video offering, telling personal patient stories as well as providing informative content.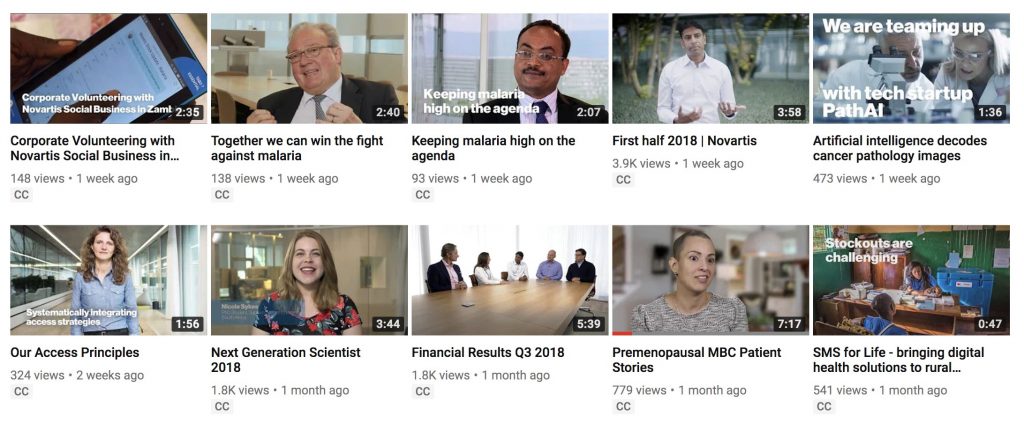 The power of Search Engine Optimization (SEO) should never be underestimated. According to a Think with Google Study, search engines drive three times as many visitors to hospital websites than other sources. Data from Pew  state that 72% of internet users had searched for health information online in the previous year.
A strong SEO strategy allows your audience including patients to find your website and can be a powerful tool for driving more interaction.
SEO is a huge topic that cannot be covered in one article alone, but there are a few key best practices that you can use to get your website set up for success
Use both generic and long tail keywords. If your website is new or lacks a large amount of content, it's unlikely you will reach the top page of Google when aiming for generic keywords such as 'arthritis' or 'knee surgery'. Instead, think about the unique selling points of your business and how consumers behave on search engines. You could reach a smaller number of more engaged visitors by using long tail keywords such as 'best laparoscopic knee surgeon Switzerland'.
Avoid keyword stuffing. Even when trying to rank for specific keywords, don't overdo it. Google recognizes when you are unnaturally repeating the same words over and over again, and will penalize your site for this.
Use tools like SEMRush. There are many free services out there than can help you evaluate and discover a range of keywords that will work best for you and your business. Try WordPress plugins and such as Yoast or Google's keyword planner.
Focus on creating good content rather than gaming the system. Overall, the best way to win at SEO is to focus on creating useful, engaging content that website viewers actually want to consume. Don't try and be smarter than Google, the chances are you will fail.
The Gelenk-Klinik have committed to a successful SEO strategy, allowing them to hit the number one spot in Google for patients researching hip replacements in Germany. A visit to their website shows that they have achieved this with a well- structured website, informative and up-to-date content around the subject and by practising a long tail keyword strategy.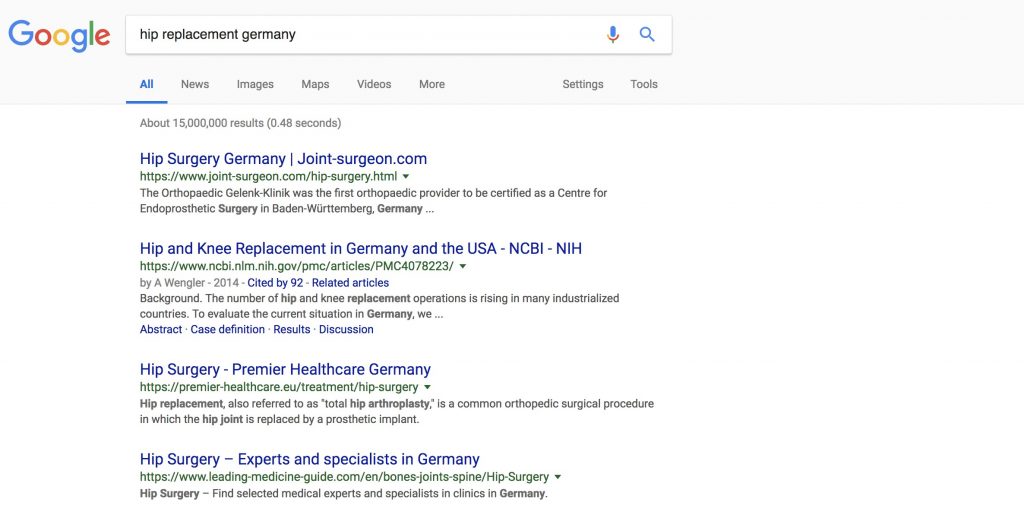 Social media is an integral part of any digital marketing strategy, and healthcare is no exception. According to Deloitte, consumer's use of social media for health purposes rose from 18 percent to 21 percent from 2013 to 2015. But like any other aspect of marketing, social media requires a strategy to perform well.
Think about what objectives you are hoping to achieve through social media and work towards this. If you are aiming to raise awareness, it may be worth investing in some paid advertisements to grow your following. If you want to use social media as a traffic driving tool, you should post regularly with links back to your blog. If you want to improve your credibility and trust, join relevant groups or communities and be active responding to questions and engaging in conversations. It has been found, that 60 percent of social media users are most likely to trust social media posts and activity by doctors over any other group.
Bupa medical group do an excellent job of managing their social media presence, including a mix of informative blog posts, video content and updates from their charitable work.


While some of you may not have the resources to set up, manage and optimize every digital marketing channel outlined in this post, you can focus on those which help you achieve your long-term business objectives.
Or you can partner with an expert in your industry, such as Medtextpert, until you have established the digital skills and resources required in-house.
We can help with all aspects of digital marketing and have experience specific to the healthcare industry. Click here to learn more or leave a comment below.