Inbound Marketing is a bit like fishing. Why? To fully understand the process you need to understand its components – Social Media, SEO, Content Creation, Lead Nurturing, Email Automation and more. Then, you have to bring these bits and pieces together to see how they work as a whole. Just like in fishing. It's all about the content – live baits or lures – you select. And about your equipment (hook, line sinker) combined with your fishing technique (e.g. hand-gathering, spearfishing, netting). None of them will work alone.
The same goes for your content-selecting marketing tactics and technical skills in Inbound Marketing. Although most people have a pretty good idea of how to "fish" and how to attract the prospective fish, it still takes a good portion of experience and practice to "reel" them in.
Your buyer personas are hungry for information surrounding your offerings, organization, business or industry. In Inbound Marketing we provide helpful, relevant content – baits – intended to feed this need for information. We are answering their questions and addressing their concerns in a compelling way. We choose interesting topics and a captivating title to get the clicks, or "bites," we are looking for. We specifically design content that appeals to our ideal prospects, that makes them nibble and keeps them coming back for more.
The best part about Inbound Marketing is that it is not a paid form of advertisement which stops when you stop paying for it. Your content can live and continue to attract as long as you want it.
Read on to learn what makes Inbound Marketing so valuable, have it put in context to outbound techniques, explore the benefits and things to consider and get a go with our checklist for inbound fishermen.
But first – let's look at the definition.
Inbound Marketing defined
Inbound Marketing is a strategy that draws consumers to products and services through Search Engine Optimization (SEO), Content Marketing, Social Media Marketing, and Branding. Its goal is to increase Brand Awareness, establish Brand Preference, create meaningful Leads, and convert Prospects to Buyers.
At the heart of Inbound Marketing is Content: website content, blog content, and downloadable ("advanced") content offered on a website, like white papers, guides, tip-sheets and others. When using an inbound approach, marketers develop content to align with specific points in prospects' buyers' journeys:
at the beginning of their journey – a buyer is getting familiar with the problem and potential solutions
in the middle – they're comparing a small set of potential solutions;
and at the end of the journey – they're doing due diligence needed to make a final decision.
Inbound Marketing aims at providing consumers with what they need before they know they need it. Just like in fishing.
See our little illustration for baits you could use your inbound efforts.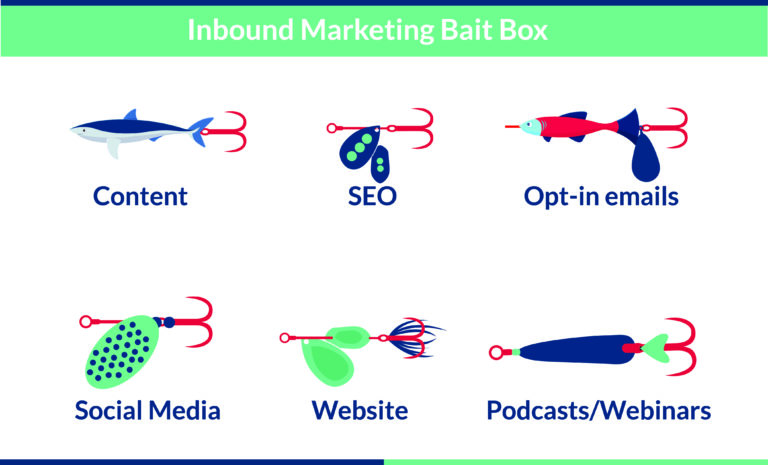 The focus is on producing quality content based on consumers interests, goals, challenges, and questions derived from thoroughly researched customer insights.
Quality content is content that attracts, is informative, relevant and that addresses the problems and needs of consumers. It helps to build relationships and triggers engagement.
Being a valuable resource of relevant information for your audience gets you on their radar as a source they trust and a name they remember first when they are ready to come back and make a decision.
Inbound Marketing, as defined by Hubspot is "a method of attracting, engaging, and delighting people to grow a business that provides value and builds trust."
Inbound Marketing put in practise
In practice, Inbound Marketing is a strategic combination of owned and earned media channels. Owned Media is the media channels you control, e.g. website, blog, social media channels, Youtube, podcasts.
Earned Media is media contributions which talk about you, e.g. social media mentions, print news, online forum mentions or reviews. They are extremely valuable and help achieve credibility in the eyes of your audience.
Inbound Marketing is no quick fix. It takes time, resources and a dose of creativity. Just like fishing.
To succeed you need to put yourself in your buyer personas shoes and work their "pain points". What are their biggest problems and why? Try to focus on 1-2 persona first and work retroactively from their problem to how you solve it. Show how you do that better than your competition and what differentiates you.
Always fine-tune your personas as you learn more about them and adjust content and strategy to bring maximum help and education to your audience.
Marketing automation software, like Hubspot or Marketo are a great help when it comes to Inbound Marketing. It enables marketers to capture data, then use that information to provide more meaningful, relevant and personalized content. And it allows for early integration of a Customer Relation Management (CRM) system. Alignment of both systems enable organisations to take full advantage of each platform's capabilities and empowers them to transform and improve how they engage with customers.
Inbound vs Outbound Marketing
Talking about Inbound Marketing is not possible without having a quick look at the opposite -­‐ Outbound Marketing. Outbound is typically paid media, which includes traditional advertising (like television commercials, radio and print ads), pay-per-click (PPC) advertising or cold calling, direct email marketing and trade shows. Also known as traditional marketing, Outbound Marketing includes traditional tactics from years past:
Radio

TV

Newspapers

Magazines

Direct-­‐mail

Billboards

Event sponsorships
The traditional outbound strategy can even be found in such digital distribution forms as email blasts, banner ads, PPC and SPAM. But the defining qualities of outbound marketing are in the messaging.
Please see our infographic that helps to quickly get a comparison of both techniques.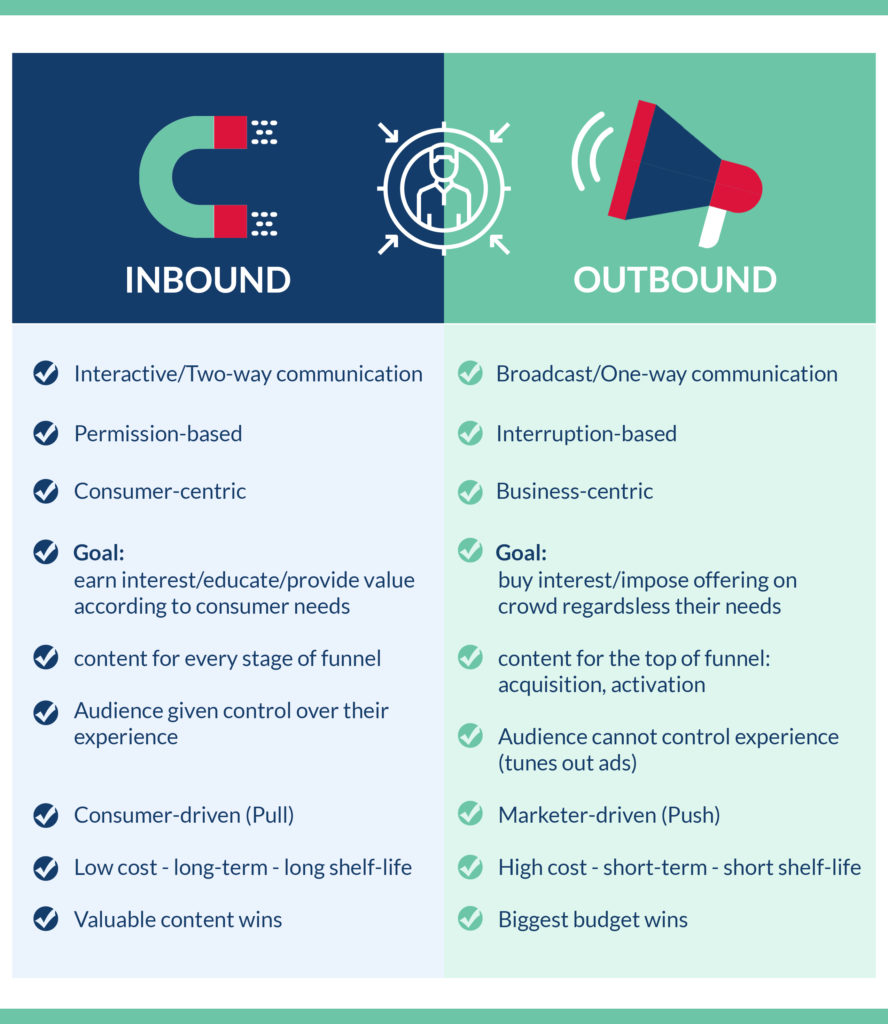 The big problem with traditional marketing is that in order to be appropriate for the largest number of people, the message must be very general. In other words, it's impossible with traditional marketing tactics to be relevant to a variety of specific needs and challenges. While outbound marketing pushes messages to a wide audience, inbound marketing is "magnetic." Rather than sending out general messages to an uninterested audience, Inbound Marketing allows you to attract your best prospects – and those who are actively looking online for solutions.
Inbound Marketing is an approach that corresponds to the modern buyer who does appoximately 70% of product research on their own before reaching out to the company that offers it. It is designed to better a align your organization with the buyer's journey.
Inbound is about getting found when potential customers are looking for something, rather than forcing your message on people who may or may not be interested.
Even if we have an obvious preference for inbound, we also recognize that outbound still serves an important role in marketing. Thorough understanding of both and leveraging the advantages that both offer will help your overall marketing strategy become more well-rounded.
For the staticians amongst you
Here are some convincing facts about Inbound Marketing:
60% of marketers say blog content creation is their top inbound marketing priority (source)
Blogs have been rated as the 5th most trusted source for accurate online information (source)
The average company that blogs generate 55% more website visitors, 97% more inbound links, and 434% more indexed pages. (source)
77% of Internet users read blogs (source)
33% of B2B companies use blogs (source)
If conducted efficiently Inbound is 10x more effective for lead generation (source)
Inbound Marketing costs 62 percent less per lead than traditional outbound marketing
Three out of four Inbound Marketing channels (blogging, social media, SEO) cost less than any outbound channel
The healthcare industry needs Inbound Marketing
Whether you're addressing a patient, a care provider or the healthcare industry, being human, helpful, and holistic in your marketing is vital and perfectly aligned to the nature of inbound methodologies.
Inbound has become a pre-requisite as the way consumers and patients search for healthcare solutions has shiftet to the digital space: 73% of consumers use search engines to investigate treatment options, 83% of patients visit a hospital website before booking an appointment and 41% of consumers say content found on social media will likely impact their choice of hospital or treatment center.
Tips for care providers which are addressing patients:
Website:

Make sure your website is centered around them, not around yourself. Websites should be a source of medical information around diseases, symptoms and treatment options. Always freshen up your content through news or blog posts, not only your patients but also Google likes that.

SEO:

Don't forget about search engine optimization (SEO) – also for services and location.

Content:

Videos, animated elements and infographics that visually help to understand medical information make great content. They are easily shareable on social media channels and can trigger increased brand awareness as well as brand preference.

Reviews:

Leverage patient-generated reviews as they help establish your credibility and connect you to your audience. People want to know about your bedside manner, not about your achievements. Add a review and testimonial section to your website and encourage patients to rate you.
Those tips can easily be adapted for all kinds of healthcare organisations and businesses.
Inbound Marketing: Things to Consider
Inbound Marketing requires time, resources and patience. Also, a solid strategy must be devised, just like in fishing. Having a website and a social media profile or two isn't enough. You need to consider a lot of things if you want to successfully reel in your audience.To catch a fish you don't only need the right bait but also a rod, hook, and line sinker. You need to know when and where to fish, and you need to know what fishing techniques work best for the fish you are trying to catch.Without all these elements in place, your odds of reeling one in are low. The same is true for Inbound Marketing.
Without a strategic approach, you are sailing right past fish who are eager to bite — in this case your audience, who are looking for help but your offering does not populate their search results. Also, be aware that Inbound Marketing efforts are difficult to measure. Define SMART goals (S – specific, M – measurable, A – actionable, R – relevant, T – time-­‐based) aligned to your business objectives early and really integrate checking on them into your routine. That will enable you to refine your strategy early, based on data and keep you focused.
You could measure organic traffic to blog and website, form submissions, CTR on downloadable materials, social media engagement or followers.
Having to keep all those things in mind can be a task by itself. Therefore we have put together an inbound marketing checklist that will not only help you to get started but serve to monitor your progress.
Feel free to download the list here.

Ready to go fishing, but… the Inbound Marketing way?
Inbound Marketing is a philosophy rooted in the idea that people value personalized, relevant content – not interruptive messages. It is a method that adds value, solves problems, and puts the consumer in control. Without a doubt Inbound Marketing is time-consuming and requires an ever-evolving skillset, which is why many business owners work with a marketing expert to lend a helping hand or to optimize their outcomes.
Our downloadable checklist – now in your pocket – will provide guidance throughout your inbound journey.
Bonus: An Effective Inbound Marketing Tactic
Once a lead has visited your site, expressed interest in your content, products or offerings, you need a strategy in place to keep them engaged. One of the most effective tactics? Remarketing! 
Remarketing is so powerful – it allows you to reach users who have already interacted with your brand and remind them of your mighty presence.
Remarketing can be set in a variety of ways. For instance, you can remarket to anyone who visited your site, show specific ad to visitors who went to a certain page (or a set of pages), or even an ad to someone who has placed items in a shopping cart, but hasn't converted.
If you are ready to catch more proverbial fish by leveraging Inbound Marketing – reach out today to learn more!
Did not find what you are looking for?
Give us a call or drop us a line, we'll be happy to help!