Writing a press release yourself can seem like a daunting task, especially if you don't do it regularly. So many things to consider and watch out for!  While they sound like they'd be difficult to write, they're actually quite simple if you know all of the necessary components. With some tips and a little practice, it's easy to create enticing press releases that will have journalists intrigued and help spread the news!
What is a press release or media release?
A press release, also called media release or news release is a short article or document that summarizes something particularly newsworthy or generally worth writing or knowing about. A press release is intended to entice and inform the media with the goal that, e.g. journalists or media outlets pick up the news and share it with their audience in form of articles or other content formats.
What is newsworthy content in healthcare?
Generally, a press release is newsworthy if it is about a well-known topic that potentially interests many people, or if it's urgent news that a larger audience might want to know immediately.
In healthcare, this could be an announcement of new drug or treatment approval, important medical research findings, the publication of central epidemiological investigations, or announcements of corporate news that may interest other healthcare stakeholders, such as mergers, acquisitions, and reimbursement to name a few.
Types of a press release in the healthcare industry
There are some types of press releases within the healthcare, biotech, and pharmaceutical industry that are more commonly used than others. Find a selection outlined below.
• Product launch press release

This could be the launch of a new medical device or treatment or approval of a new drug. The press release would not only introduce the product but provide information about the product's specs, pricing, and availability.
• New research findings press release
This type of press release focuses on announcing important results of scientific or clinical research central to an organization or brand. 
• Emergency announcement press releases
For healthcare companies or hospitals, examples for an emergency announcement would be the reporting of recommendations to discontinue treatment based on safety issues or the outbreak of a new disease which the public should know about as soon as possible.
• Mergers and Acquisitions press release
When two organizations merge, it's generally worthy of a press release. Details about the organizations involved, information about the merger or acquisition, as well as any changes coming from it would be outlined in this type of press release.
Announcing upcoming events of general interest, such as congresses, webinars and open-door days could be a successful way to promote such events. Your article would include what the event is for, who should attend, where it is, when it is, fees, and anything else that's important for potential attendees.
Such type of announcements is common not just in the healthcare industry. The new hire could be a new head of department or a new appointment of medical staff to extend service offerings. It shortly introduces the person being appointed to the new role and the changes and added value that this could entail.
• Award announcement press release
Spreading the word on an award that medical personnel, a pharmaceutical company, or other healthcare-related organization has been nominated for or has won is great press. An award announcement press release simply gives that information to the press so that they can cover it.
It's very common for businesses to rebrand, but the transition can be difficult. Writing a press release on a rebranding can provide details such as what is changing, why changes are being made, as well as any other important information from your organization.
How to write a press release
When preparing a press release it's important to stick to a fixed format and provide information in a style that journalists know.
Why? Because in search of newsworthy content, they will skim through a ton of news releases daily and will have to make instant decisions based on what they pick up at first sight. An attention-grabbing headline and easily scannable format, that they are used to, will enhance the likelihood of your news being published.
To demonstrate how a well-structured press release could look like we have selected a recent example from MedTech Europe.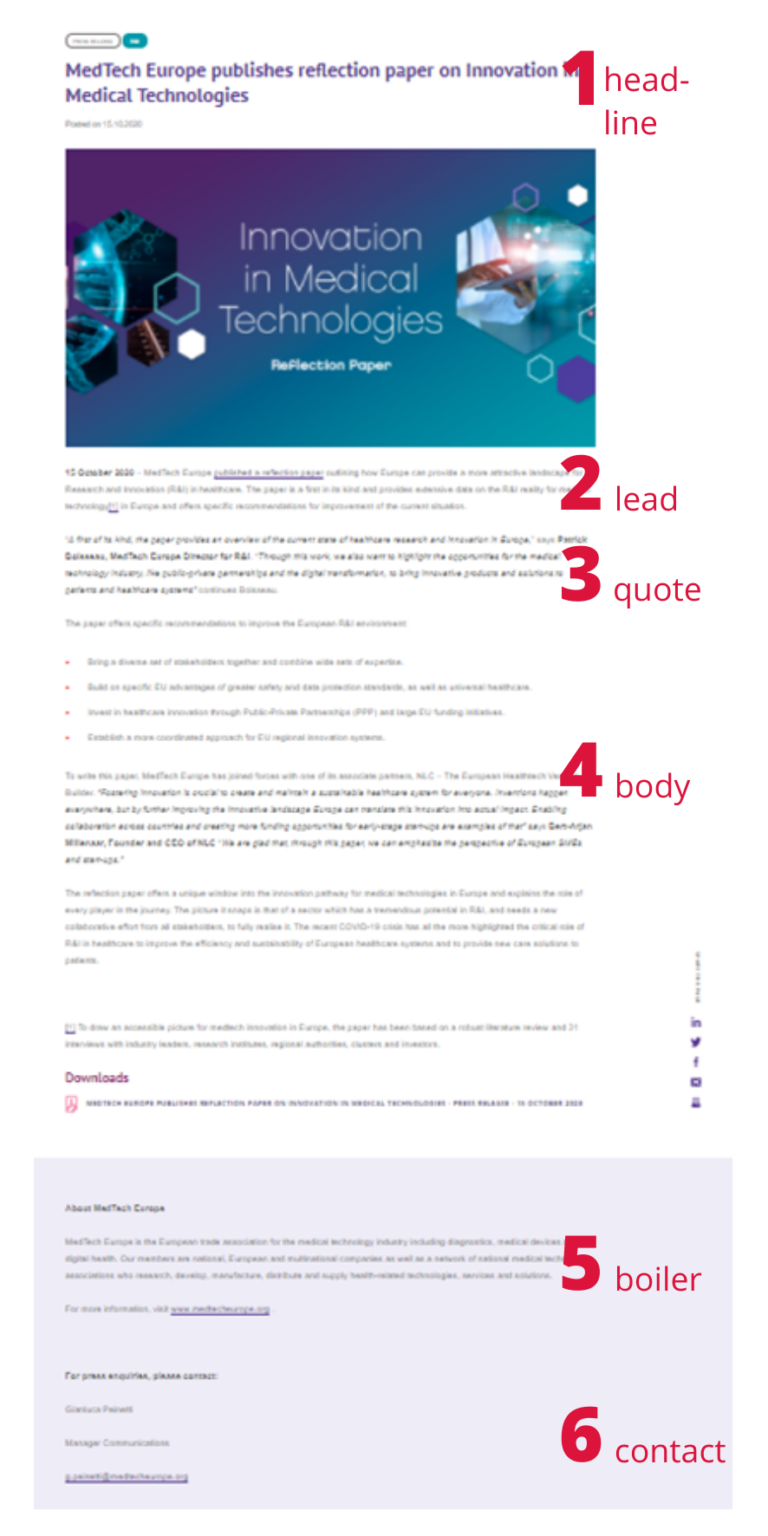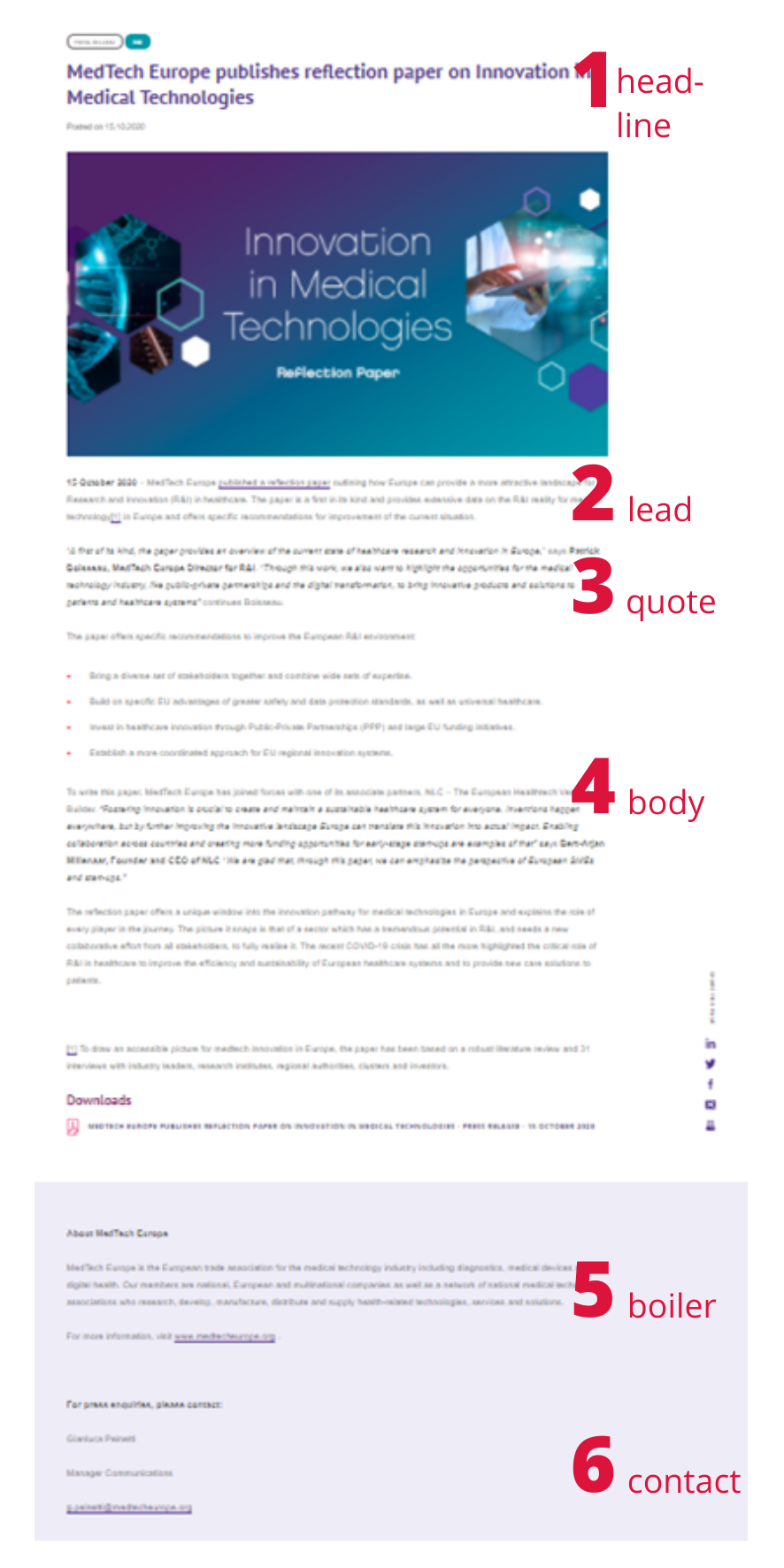 Source: Screenshot of MedTech Europe's press release (posted on 15.10.2020)
1) An attention-grabbing headline
The headline is the first thing that will attract a journalist's attention. Spend sufficient time thinking about and perfecting your press release headline – it's potentially the most critical part of the entire document. The headline should summarize the entire message of the release and immediately get the attention of journalists.
Your lead is the next most crucial part of your press release. It should be about 35-45 words long and should summarize the entire story. It should be conclusive yet concise and avoid any unnecessary fluff. Include, why the information relevant at this precise moment. 
Including a relevant quote is imperative. It could be placed just after the lead or after the body. Quotes help build your credibility in your field, especially if the source I a recognized contributor. Quotes should be fully referenced and be appropriate to the topic. 
When writing a body, think of an inverted pyramid. Include the most relevant and essential information at the start, give some supporting, necessary information, and end with some additional useful statements. Try to develop a compelling story, include evidence, and be straight to the point. Don't give too many unnecessary details.
A boilerplate is just a description of your business, organization, or brand. It should mention what the company does and what they plan to do. Keep it short, about one paragraph at the end of the body. 
6) Finish with contact details
Media contact information should not only include your general contact details but point to someone able to provide more details on the press release. It should include that person's name, email address, and phone number.
Additional tips for creating a good press release copy
There are some essential things to bear in mind when writing a press release. 
First, be very clear about your goals and what your intentions for the press release are. You have a reason for wanting journalists to write about your news, so get that reason very clear. 
Remember that you are writing to journalists, write in their style. Use relevant information and write in a factual style that journalists recognize and appreciate, provide all important elements on a "silver plate".
It's also essential to keep your target audience in mind when presenting the news, as this will greatly influence the kind and depth of information you select to share. 
But how to publish a press release?
There are several ways to disseminate press news. You can send it directly to your customers, contacts in your business, journalists or media outlets.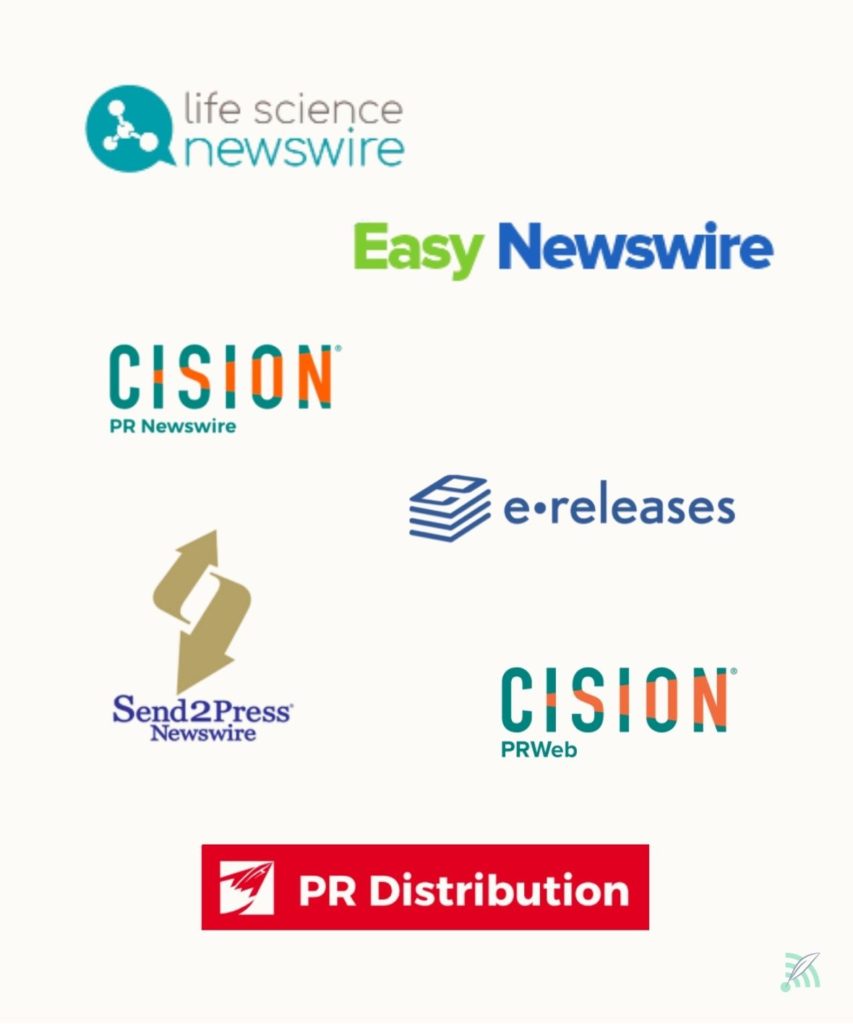 You can publish it on your website, or social media channels like LinkedIn or Twitter or integrate it into an Email Marketing Newsletter.
You could also automate the distribution process and pay for its distribution using distribution services like PR newswire, PR web or Pressat. There are services specialized in life science, like LifeScienceNewswire or LifePulseHealth.  
Choose a distribution service that suits your needs and budget. Upload the document and its multimedia (e.g.images or videos), choose your audience and target (industry, location) and select add-ons, for instance, social media blasts. Provide the date, your contact and payment information and you are all set.
Press release distribution services are very handy as they help to effectively present your press release before a targeted audience of bloggers, influencers, journalists, and traditional and digital outlets. Plus they offer tracking options that allow you to monitor the performance and help you justify your investment. Such performance metrics include reads, inbound traffic, conversions, backlinks earned, placements, and social media mentions. They allow you to glean best-practice insights for future releases.
When to publish a press release
One more thing to mention is that there are set times when your press release will be more likely to be read. Try sending it on a Tuesday, Wednesday, or Thursday, the best time for emails is between 9 am and 2 pm. Most people are in the office then, the weekend backlog is gone and people have "more" time. If you send it too late in the day or on Fridays, your Email maybe just tossed aside. Free advice: Don't publish on the hour to avoid competition!!!the
Bottom line: You can do it!
Press releases can seem a bit overwhelming at first, but with some practice and our tips at hand, you'll be able to create an appealing and comprehensive press release copy that will get noticed. Combined with the right publishing strategy, preferably using automated distribution through service providers – you can be sure to get your newsworthy content out to your audience.
Of course, we are here to help revise and optimize your copy to be search-engine-friendly which will additionally increase your organization's online visibility.
Drop us a line if you think you need someone polishing your draft. We are also happy to provide templates for free – so reach out whenever in need.