You've probably heard about ChatGPT or even tried it out since so much has been reported about it in recent weeks. You may have also wondered if and how ChatGPT can help with medical communication or even medical writing. If so, then this post is for you.
We share some first insights on how ChatGPT performs in writing a simple blog post on a medical writing topic. The topic chosen was: "Writing case reports following the CARE guidelines". To evaluate ChatGPT's performance, we compare the output to results returned by Jasper.ai, an advanced AI-based content generation platform.
But first things first.
ChatGPT is a natural language processing (NLP) model developed by OpenAI that allows to have human-like real-time conversations with an AI chatbot. It is based on the GPT (Generative Pre-training Transformer) architecture, a language model that uses unsupervised learning to generate human-like text by predicting the next word in a sequence based on the context provided by the previous words. There are several versions of GPT, including GPT-1, GPT-2, GPT-3, and GPT-4. Each version has been trained on a different dataset, with GPT-4 being the largest and most powerful version to date.
ChatGPT can, amongst other many other things:
answer questions

write text or stories, from simple to sophisticated
generate code.
For more details on ChatGPT follow this link.
ChatGPT is currently free to use (access here) as it is still in its formative stage. 
Jasper.ai is an AI content platform that can generate long-form text/content with over 1,000 characters at once. It also builds on OpenAI but adds other models to provide tailored solutions to specific content marketing needs. It is a very powerful all-in-one content generation platform. 
Jasper.ai has been selected to evaluate ChatGPT's capabilities since both are based on OpenAI and are likely to deliver similar results.
There are other AI-based writing assistants, such as WriteBetter.ai or ArticleForge.  Find a selection here.
Note: Jasper.ai is not to be confounded with Jasper, an open-source platform for developing always-on, voice-controlled applications.
Can AI assist with medical content creation?
ChatGPT or other AI-based writing assistants can generate texts for medical communication assets, including blog posts, patient information, or lay summaries.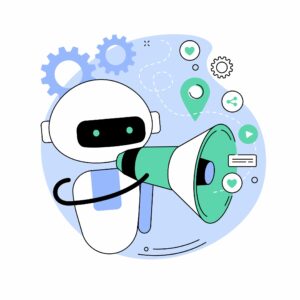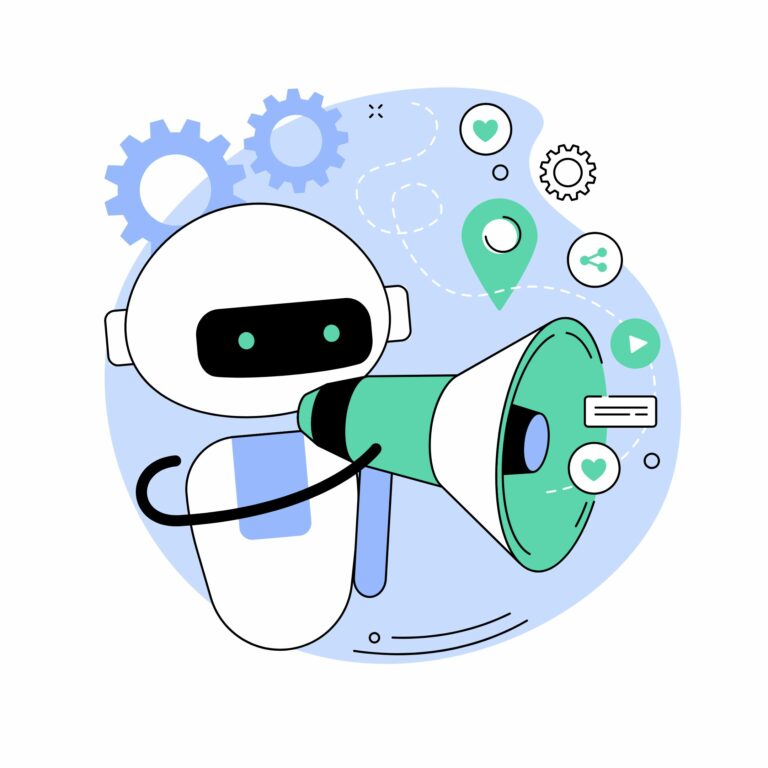 Besides ChatGPT's capabilities in creating text it could be used to generate responses for a chatbot that is designed to provide information about a particular medical condition or treatment. It could also generate responses for a virtual assistant that helps patients manage their care, such as by reminding them to take their medication or providing them with information about their health status. 
However, it is important to keep in mind that ChatGPT is a general-purpose language model that has not yet been specifically trained on medical subjects or for the purpose of medical writing. Therefore, ChatGPT and other assistants should not be used without the 'intervention' and final 'verification' of a human expert. NOT YET. As a matter of fact, OpenAI emphasizes, ChatGPT can give you wrong answers.
Nevertheless, we clearly recommend trying out and using the technology now so as not to lose out. Even if it cannot yet deliver finished assets, it can support the creative process and save a lot of time. 
But see for yourself how ChatGPT works.
First experience with ChatGPT
To try out ChatGPT, a simple task was created: "write case reports following the CARE guidelines – write a summary".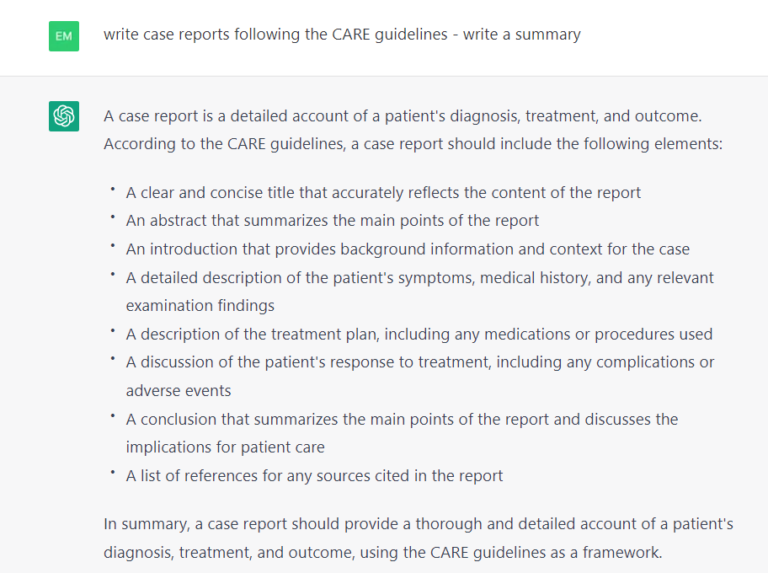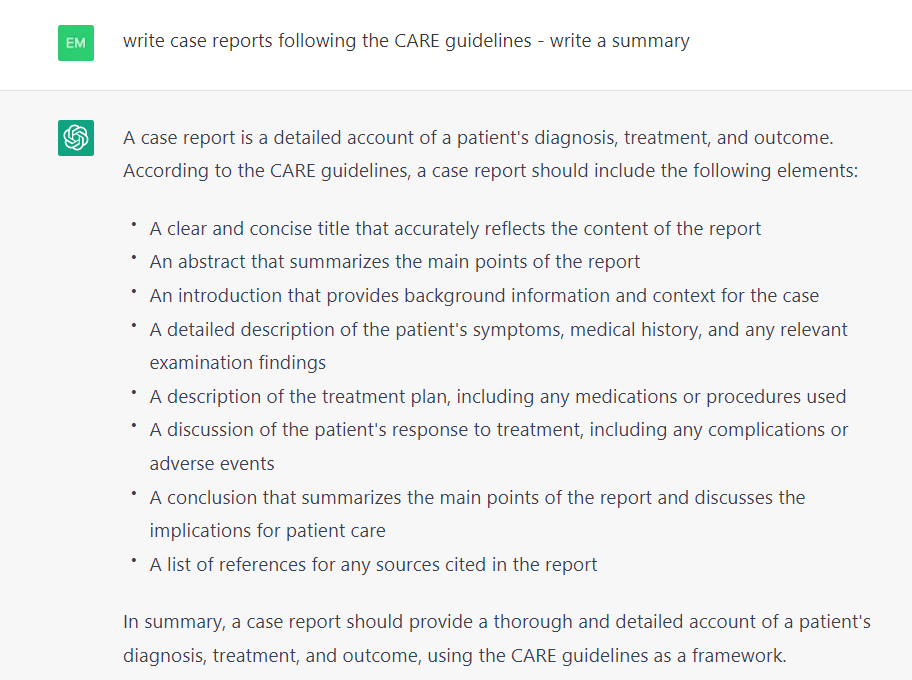 A solid, standard summary was returned in a few seconds time.
When refining the task to: "write a blog article about how to write case reports following the CARE guidelines, add journals specialized in publishing case reports, add examples of good case reports" the following, reasonably well-structured text was created.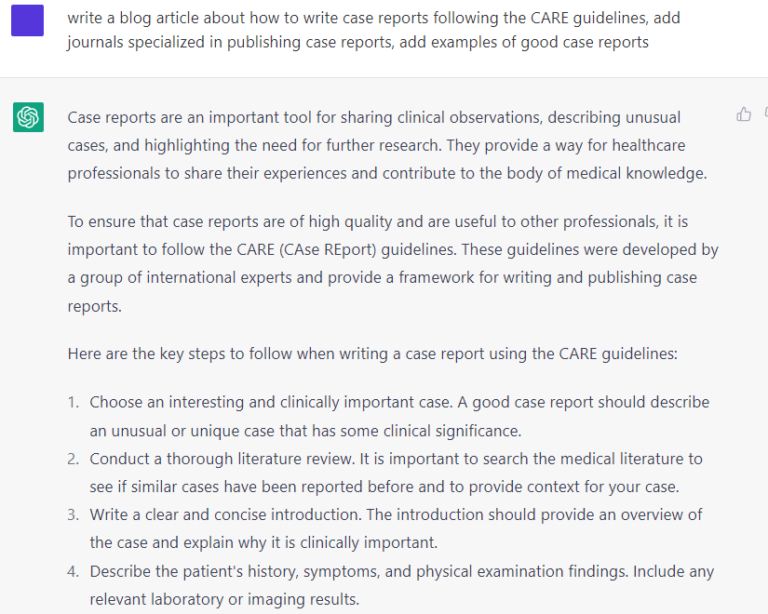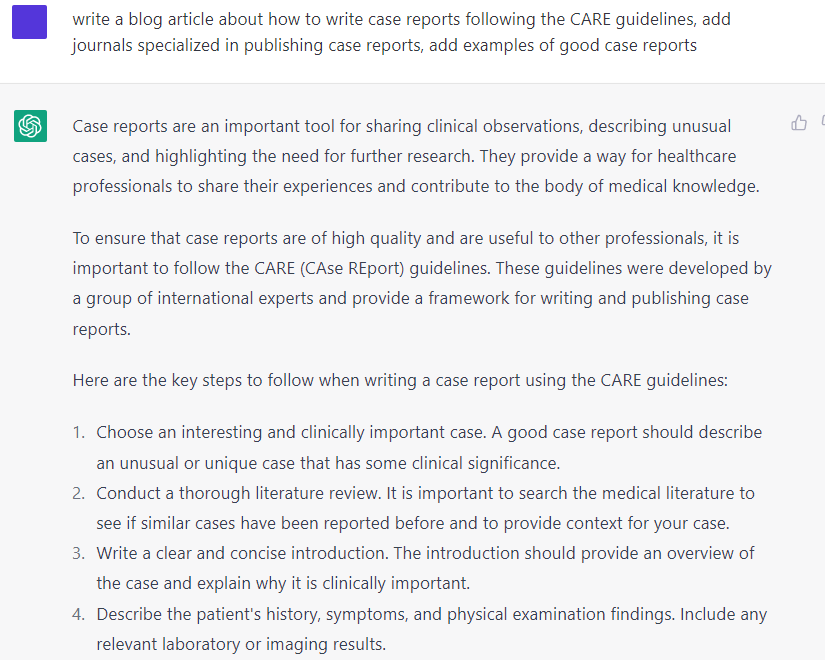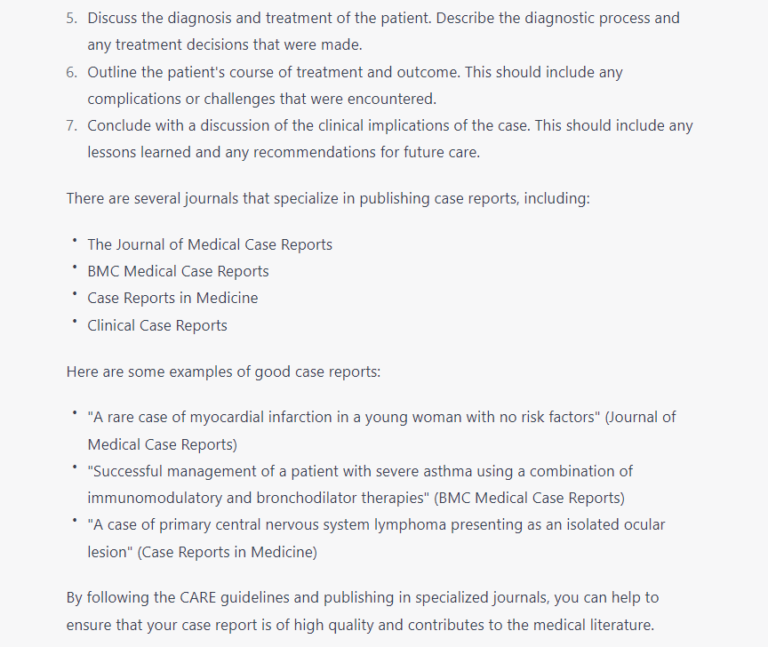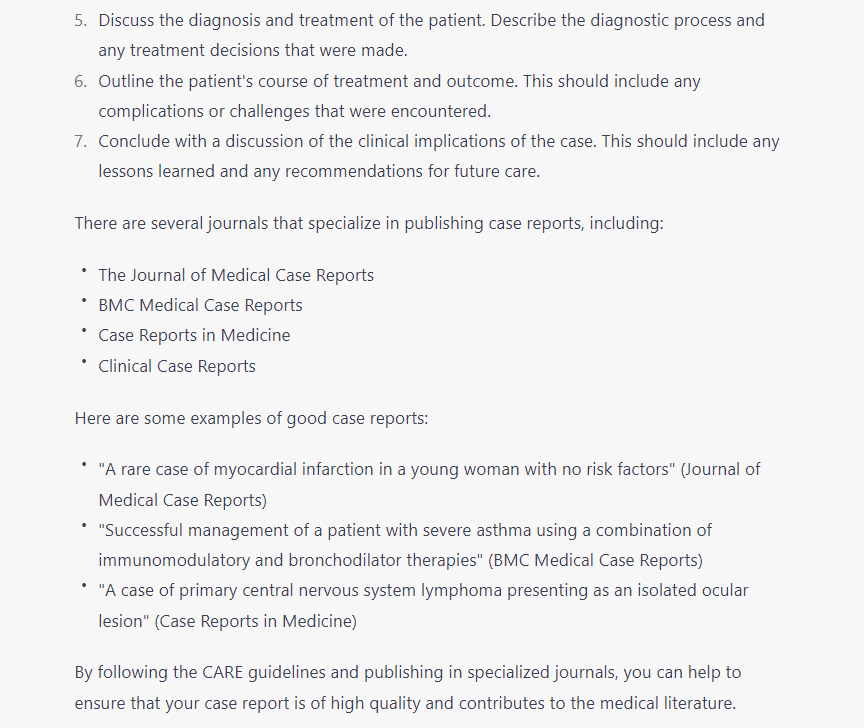 You see, the more precise the task, the better the result. Still almost in real-time and in less than a minute. 
Comparing ChatGPT to Jasper.ai
As mentioned earlier, Jasper.ai is one of the various AI-based content creation assistants currently available. It is accessible on a subscription model.
From the following screenshot, you can imagine how advanced, user-friendly and specific content creation with Jasper.ai is. Check out the different template categories (currently 60+)! It can even create original imagery, repackage content into different formats and adapt content to keywords.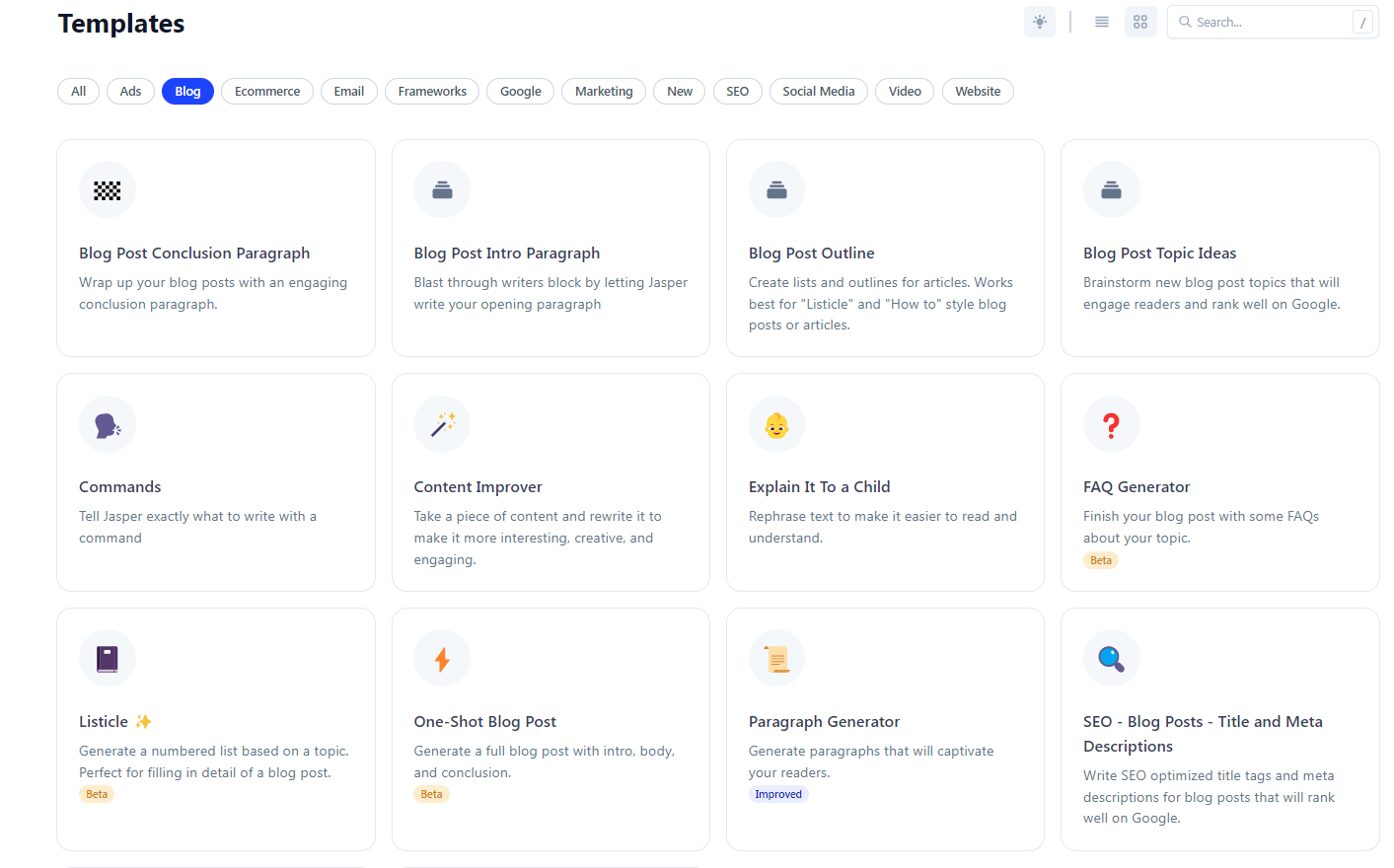 To evaluate the task given to ChatGPT with Jasper, the One-Shot Blog Post Option was selected. It allows to further refine requirements by adding additional criteria, like tone of voice, intended audience and language.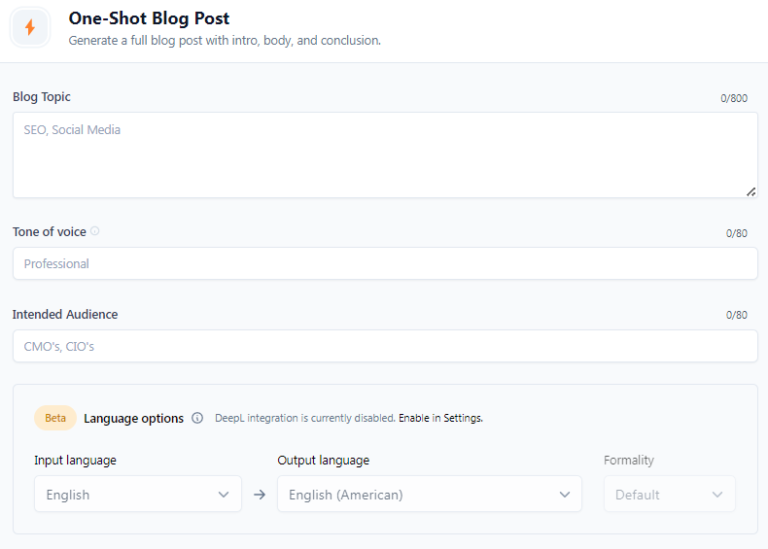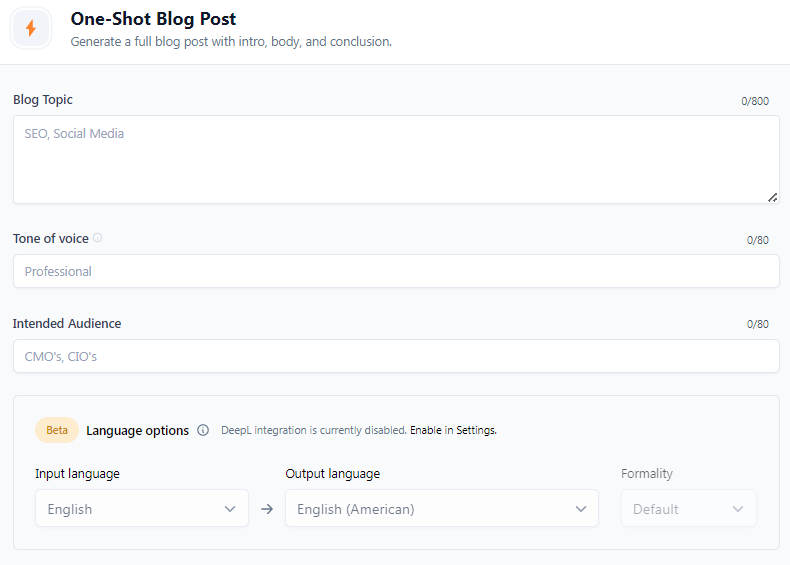 Jasper delivered the following text when asked to "write a blog article about how to write case reports following the CARE guidelines, add journals specialized in publishing case reports, add examples of good case reports".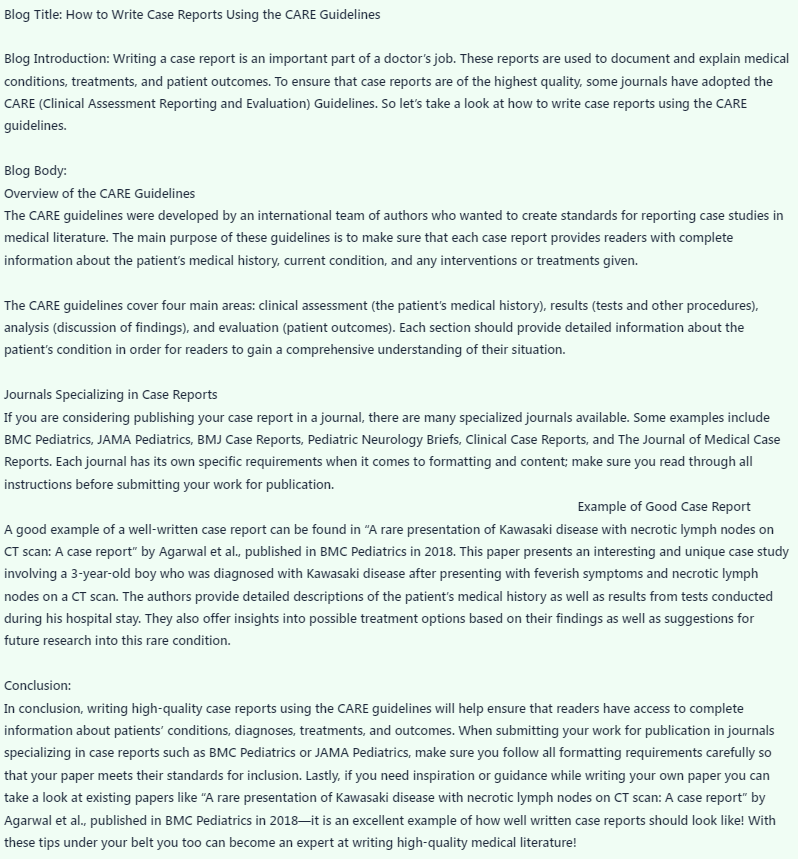 The result is convincing, the output comprehensive and well-structured. Further detailing of the task will further improve the quality of the delivered text. This, especially with regard to audience-specific and tailor-made communication. 
AI is here and here to stay

ChatGPT and other AI-based tools will transform the medical communication and writing space by delivering specific, concise and tailored information to specific healthcare audiences at the push of a button. They will facilitate conversations between healthcare professionals and their patients and help patients manage their health or care. 
Whether you're a seasoned medical writer looking for new tools to enhance your workflow, or a beginner just starting out, those tools will expand your capabilities and transform the process of medical content generation. Therefore, put them in your toolbox and use them, if you do not want to be left behind.
AI has opened doors and will continue to do so. But it will not yet replace the human being. Let's leverage the technology to advance medical communication together. 
Note: This article does not claim to provide a complete and detailed overview of AI-based assistants such as ChatGPT or Jasper. It is intended to provide a first insight and to show, by means of a simple example, the potential that AI-based solutions hold, also for medical communications and medical writing.