We have learned in previously why an emotional approach in B2B marketing is helping to strengthen brand experiences. And we have learned that emotions affect the decision-making process in private and business life alike.
What is needed now, is an understanding of how to approach emotional marketing in business-to-business settings. How can it be put into practise, especially in a heavily regulated healthcare environment?
Read on to find suggestions and guidance on how to tap into your audience's emotions combined with examples for effective B2B marketing campaigns in healthcare settings that incorporate an emotional approach.
How to inject emotion into B2B marketing
Disbelievers of emotional marketing in a B2B environment may be confusing 'emotional' content with 'dramatic' content. However, emotional marketing doesn't need to not involve a weepy love story or a tear-jerking montage of crying, suffering children.
What then? Don't think in terms of extreme emotions, such as terror, anger or bliss. Rather go back to those nuanced feelings mentioned in the preceding post (Plutchnicks Wheel of Emotions). Depending on your brand and product, you may want to try evoking much subtler emotions, such as safety, trust, excitement or awe. Do you see where we would like to take you?
A way to start could be to create content that resonates on both a business and a personal level. Content that supports your products or services and is appealing to a buyer because it demonstrates and implies how it will help them grow professionally.
Or content that clearly provides business benefits, such as saving time, but not only in a business context. Freeing-up personal time is triggering a positive emotion, because extra time could be dedicated to things an individual is passionate about.
Another idea would be to include authentic, relatable emotions created by your customers. Examples could be usability testimonials or video quotes. We'll get back to that again.
After you have captured your audience's attention, sparked their interest and engaged them emotionally, be sure to back up your claims with logical arguments and detailed product information. Remember that second, fact-based component of decision making? It may not be completely in charge, but it's certainly very important and part of emotional marketing as it can evokes reassurance and safety. 
What is most important in this step is to ensure you humanize your brand, for example by simplifying your language and using a conversational tone throughout your content. Provide varied editorial content tailored to your diverse audiences and speak to them directly, to one buyer persona at a time.
And, don't forget to include content that provides inspiring insights that your B2B executives would happily pay for as they are am important part of the decision-making.
There are plenty of content formats suitable to support the creation of a meaningful, distinctive B2B brand experience, which is the key to business success for virtually all organizations.  Keep in mind, that ninety-one percent of B2B buyers prefer interactive or highly visual offerings. Video is among some of the best ways to establish an emotional rapport with a B2B audience.
Another great way to incorporate emotion into your marketing strategy is to use storytelling. Rather than just listing a stream of facts and specifications, storytelling is about painting a vivid picture. Include facts to be ethical and more effective, but don't make them the main focus. There is a huge difference between a straightforward, orchestrated user testimonial and an engaging customer story. The latter is far more likely to create an emotional response and a feeling of connection.
Learnings for the healthcare industry
The healthcare industry has many differentiators to other industries. Regulations and ethical considerations effect healthcare marketing and of course emotional marketing content. That doesn't mean emotions should not be made integral part of every B2B healthcare marketing strategy.
Research published in the American Marketing Association Journal found that activating a positive emotion fosters processing of information, while activating a negative emotion hinders the processing. Positive emotions like hope, inspiration, joy, and gratitude work effectively in healthcare marketing campaigns.
Over and above the research, real world examples confirm this theory.
Solis Women's Health, in their marketing efforts for a mammogram, experienced that marketing fear led to anxiety and procrastination. When adjusting the campaign and tapping into positive emotions instead, they saw growth of more than 10 percent mammograms in just one year. By the way, they continue to be a great example of emotional marketing content – head to Solis youtube channel see their great #EveryWoman testimonial series for inspiration.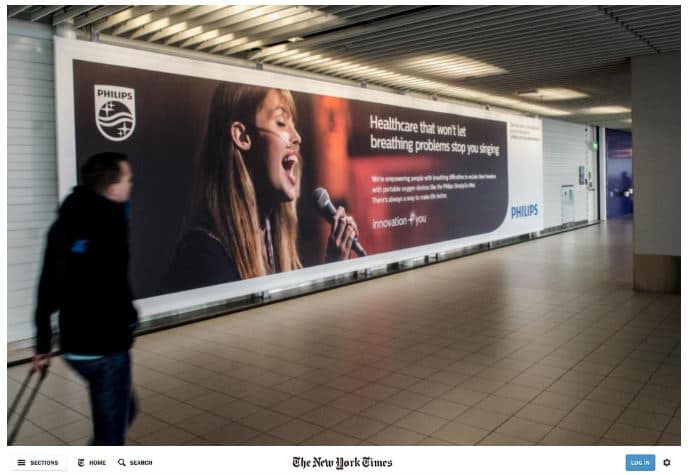 Source: Screenshot New York Times
The Breathless Choir video of Philips is a great example of a successful marketing campaign to indirectly promote the Philips SimplyGo Mini portable oxygen concentrator — complying with advertising regulations for prescription products. They were using positive emotional marketing, including real patient stories from people with various breathing challenges, from conditions like Cystic Fibrosis to COPD. Take time to watch it here.
A more theoretical illustration of what storytelling for a manufacturer of hospital beds could look like is following.
While typically a truly functional item, the manufacturer could aim to create a sense of trust, sensitivity and caring towards their clients. Rather than only discussing the functional aspects of their beds including extra features as well as price, they could add brand storytelling in their marketing. How? Highlighting, for example, that they began their company after seeing a loved one bed-bound for too long. They may then explain their company's commitment to patient comfort and dignity over profit margins.
Another option would be to share quotes or testimonials from patients or care givers who have used their beds, to show a personal touch alongside usability
testing and evaluation that has been conducted. That shows that the company cares about users of their beds (the patients and care givers) and their comfort when using or handling the beds.
When considering which emotions you could tap into, again, don't forget to consider the ethical components of your marketing. While undoubtedly powerful, avoid using scare tactics or promoting fear when trying to guide someone into a purchasing decision.
Aim for positive emotions, as shown in the Solis Women's Health campaigns or Philips video, and both you and your clients are sure to have a much happier and longer-lasting working relationship.
In 2019, if you aren't including emotional triggers in your B2B healthcare marketing strategy, you could be leaving opportunities on the table. Take time today to evaluate which emotions you should be aiming to bring up for your customers, then examine your current strategies through that lens.
Is there more you could be doing to inject emotion into your marketing assets? Compare where you are now with where you intend to be, and don't be afraid to analyze how your competition may be adopting this strategy.
If you have further questions, or would like guidance on how to incorporate an emotional approach into your B2B healthcare strategy get in touch with medtextpert today.